Imagine a full-size cookbook with hundreds of other cookbooks embedded within it. Then add large color images, videos, hyperlinks, and reviews of the food creation . . . sounds great, doesn't it? That is the iPad. After using actual cookbooks and then an iPhone for years to elevate my baking, I've moved to the next level: the iPad.
My baking journey started with my parents' cookbook, which they had received as a wedding gift in 1958. It completely fell apart a long time ago, with much use, as it had a variety of easy and economical recipes in its one hundred pages. Upon receiving the 900-page Fanny Farmer Cookbook in 1992 at my own wedding, my baking journey got started in earnest, and I received as a birthday gift the 100th anniversary edition in 1996. Its pages are also well-worn from near daily use.
As with all things, the Internet came along like a well-honed Swiss Army Knife in the late 1990's to enhance so many things, particularly books and images. Laptops and iPhones made the Internet mobile. The Apple Watch made connectivity nano-sized, and the oh-so-portable iPad made all of that connectivity a lot more convenient. The images are bigger, the videos load much faster, and all of that text is much easier to read.
So let's get started with a birthday cake and a column both created with an iPad: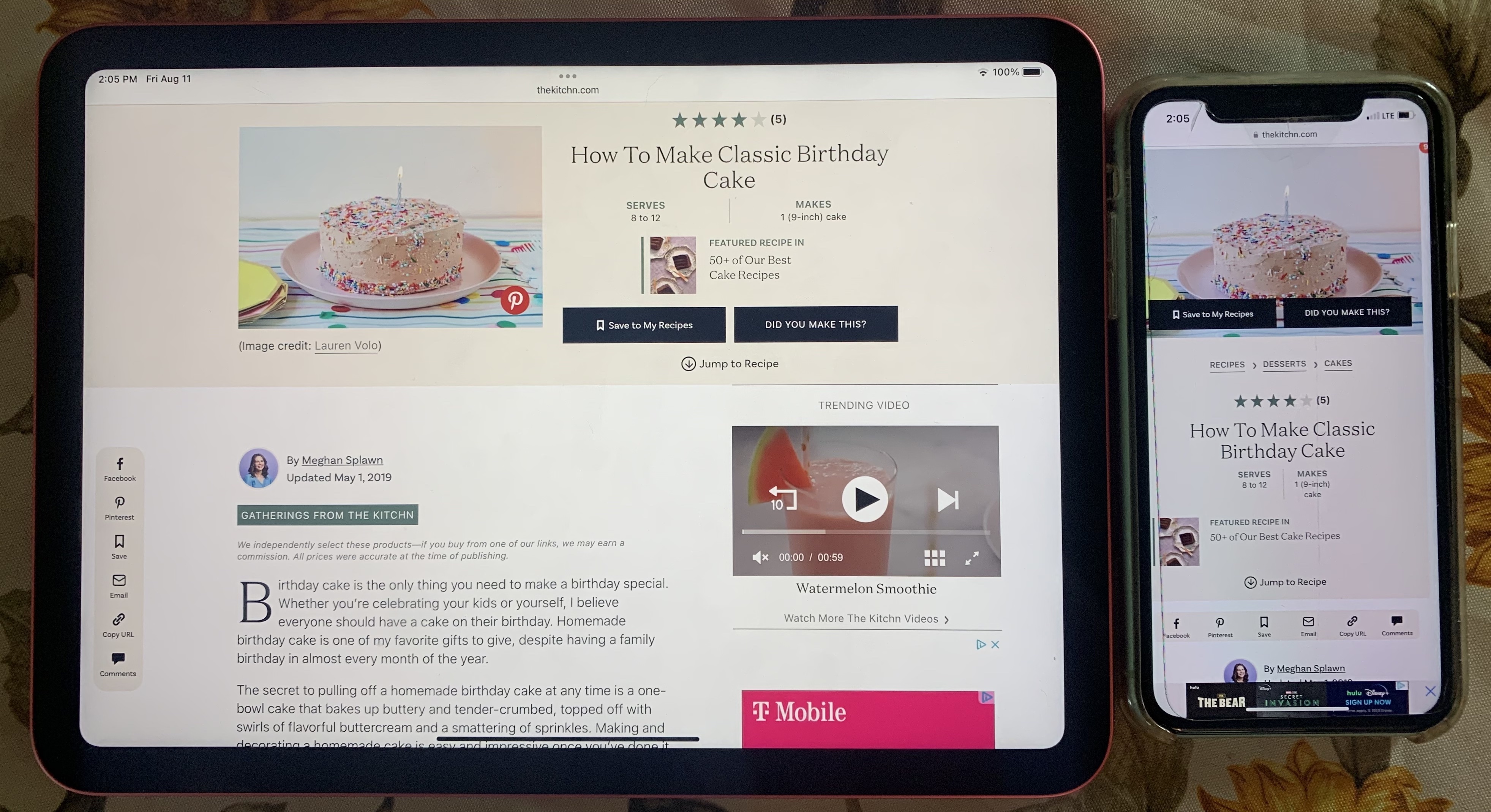 The liquid retina display, LED-backlit screen on the iPad measures 10.9 inches diagonally (27.7 cm), with 500 nits of brightness. The iPhone 11 pictured here (my daily device) measures 6.06 inches (15.4 cm) diagonally at 625 nits. The iPhone is brighter than the iPad, but with its larger type, the iPad is already easier to use than the cell phone. Sure, the iPad is a larger canvas for advertising (at these free websites), but the ingredients for these recipes have now been freed from the need of reading glasses.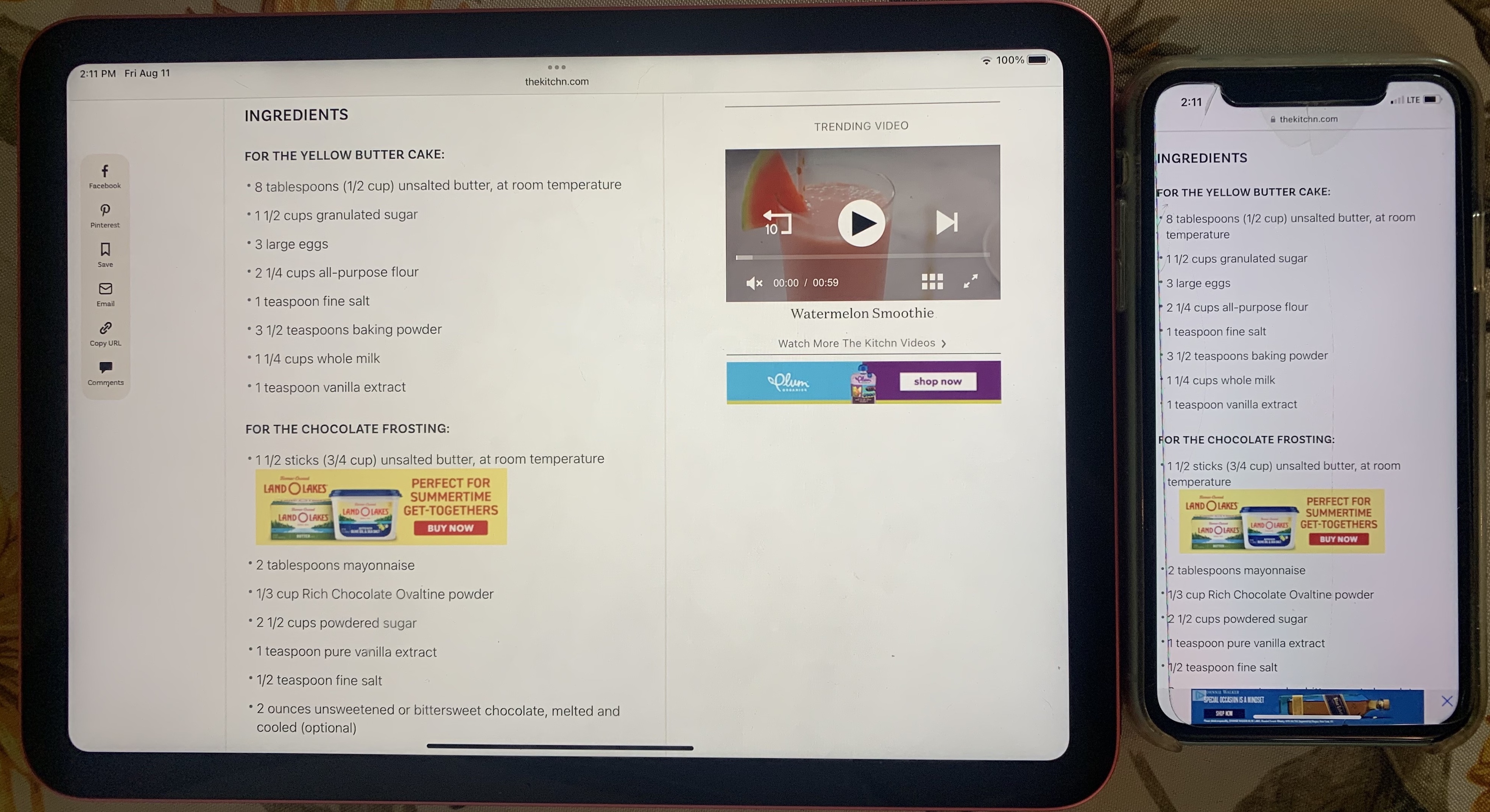 The iPad cost $570.10, delivered, with Apple Care in January 2023. Some folks might say that's a little much for a glorified cookbook, but this has so many more uses than displaying ingredient lists and butter advertisements. Originally purchased for photo editing, this iPad is much better than the MacBook Air laptop and iPhone for taking and editing pictures. The laptop, hands down, is best for text editing, but the iPad does everything and does it well.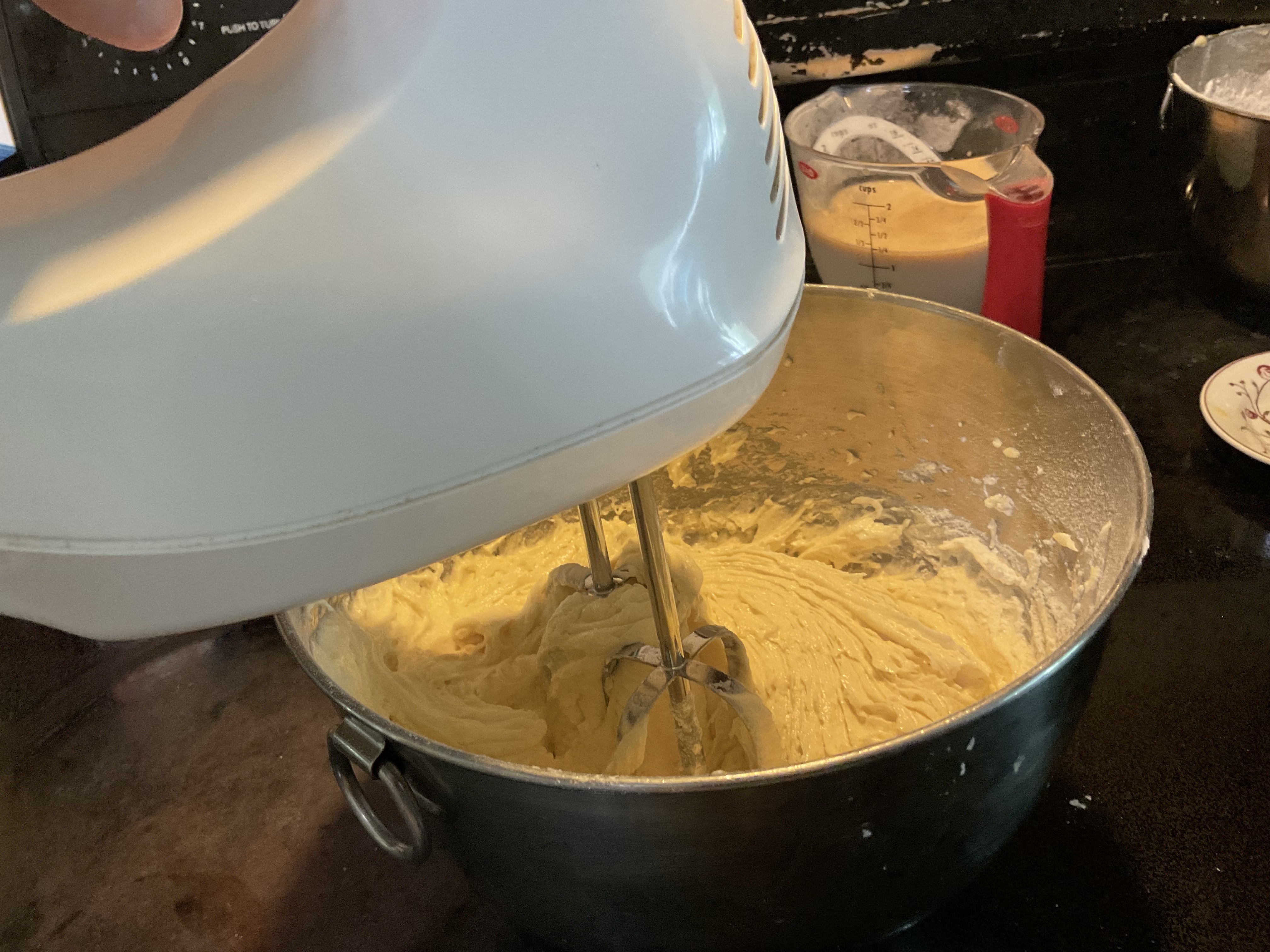 Another useful thing to know about iPads and iPhones is the term "nit." This term is most commonly associated with young kids and headlice, but it also measures brightness in electronic devices. iPhones have the highest number of nits at 625 max brightness, which is candlepower per square meter, as these devices are often used outdoors and are competing with sunlight. The iPad has a max brightness of 500 nits, with its much larger screen. A MacBook Air M2 2022 with a 13.5 inch (34.3 cm) screen also has 500 nits. The word "nit" is an abbreviation of the Latin term "nitere," which means to shine, to glitter, to glow, or even to thrive. Here's the math: 1 nt = 1cd/m2. And what about the lumen? A lumen is the measure of the complete luminosity of a device or even a movie screen.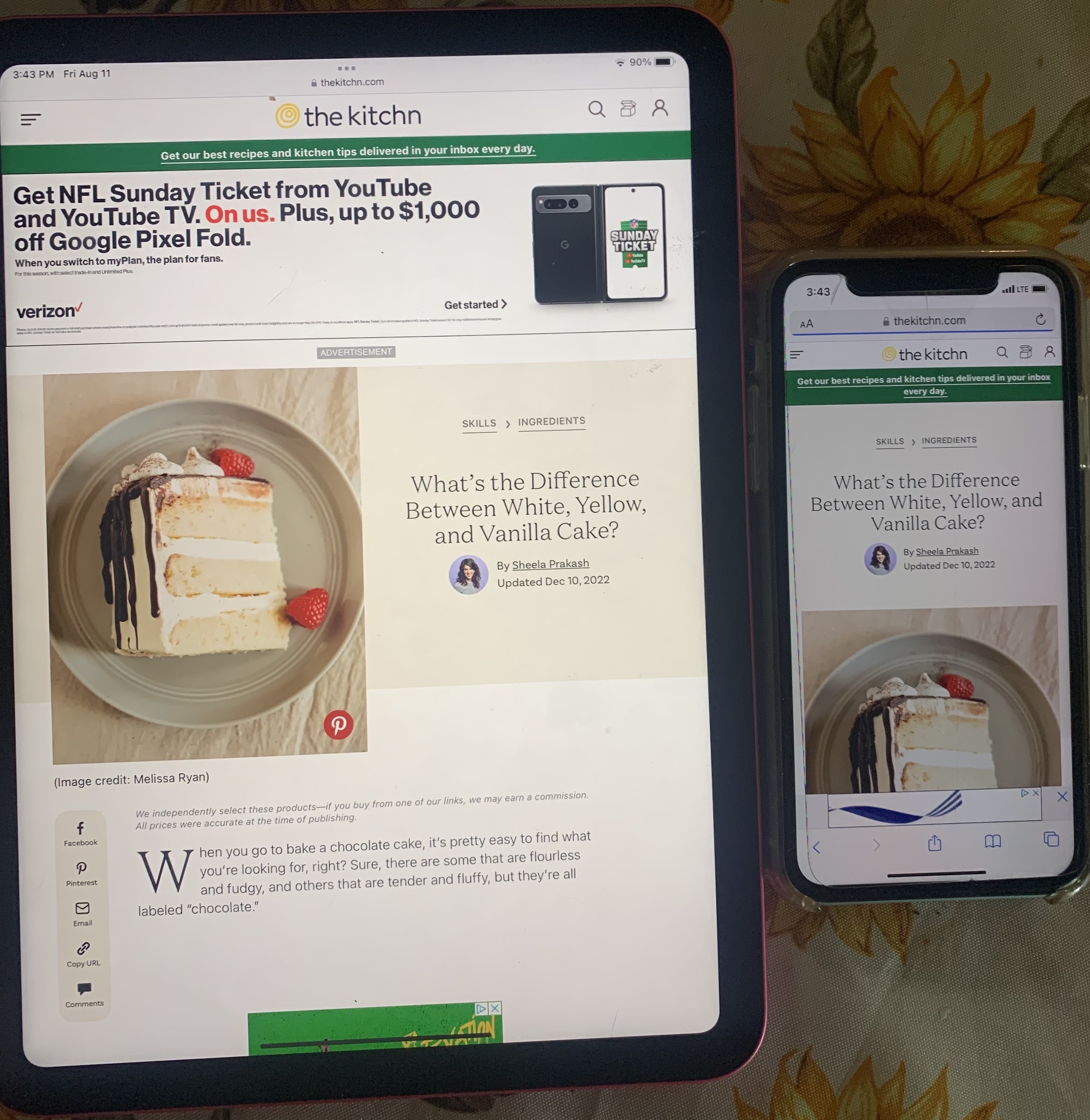 While the two layers of this yellow birthday cake were in the oven (approx. 25 min), the iPad thoughtfully displayed links to the differences between yellow cake, white cake, and vanilla cake. From The Kitchn: Yellow cake uses egg yolks in addition to the whites, and it does not cut the butter with shortening. White cake uses only egg whites with shortening plus clear vanilla extract to keep the cake as bright as possible. There is less fat with white cake as there are no yolks and less butter, and the texture is not as tender as yellow cake. Both yellow cake and white cake are both vanilla cakes, as they both use vanilla.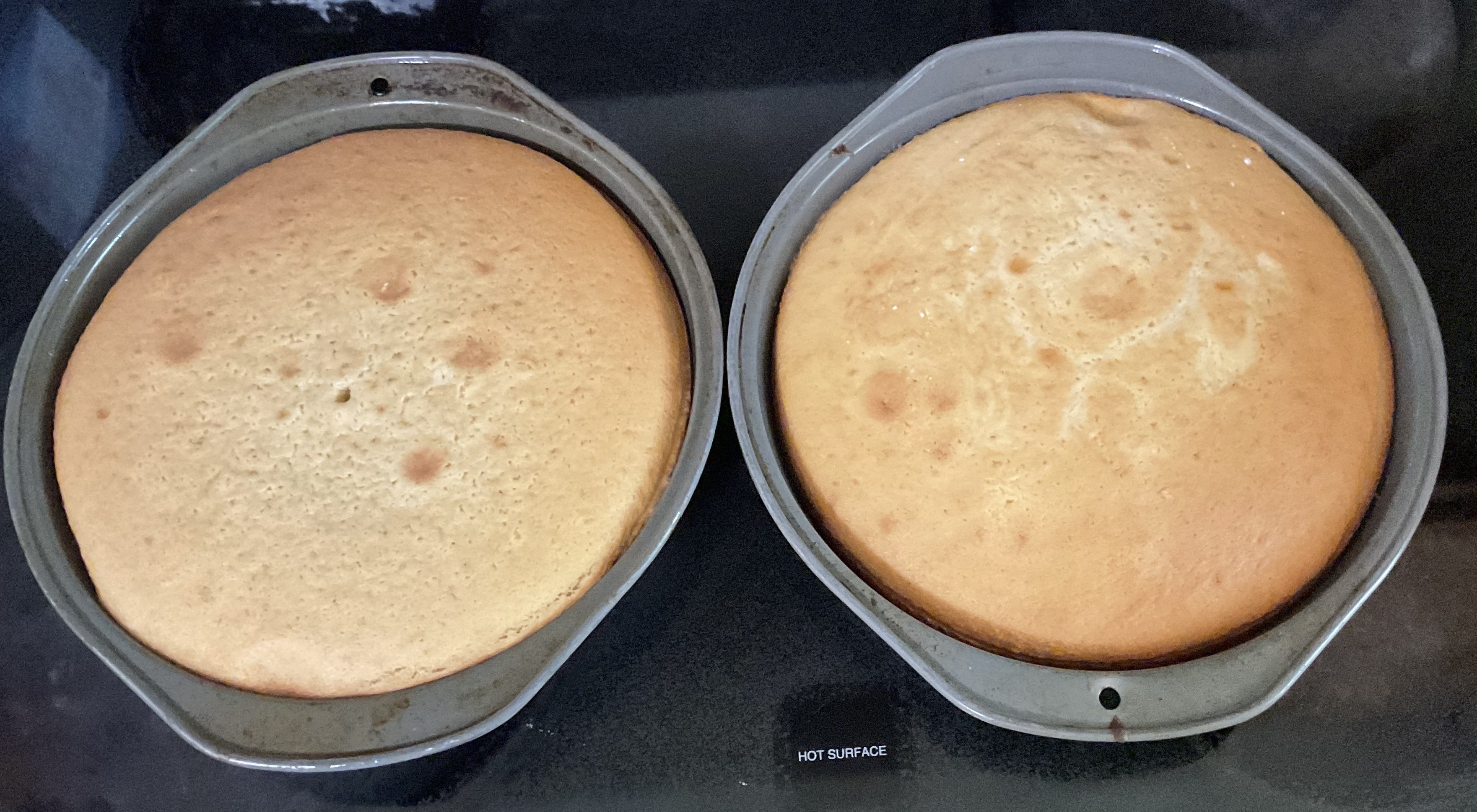 The iPad so helpfully displayed the differences between yellow cake and white cake, while also providing an legible explanation of the differences between the "nit" and the lumen. It's easy to understand why an iPhone looks so much brighter in a movie theater than the movie screen itself.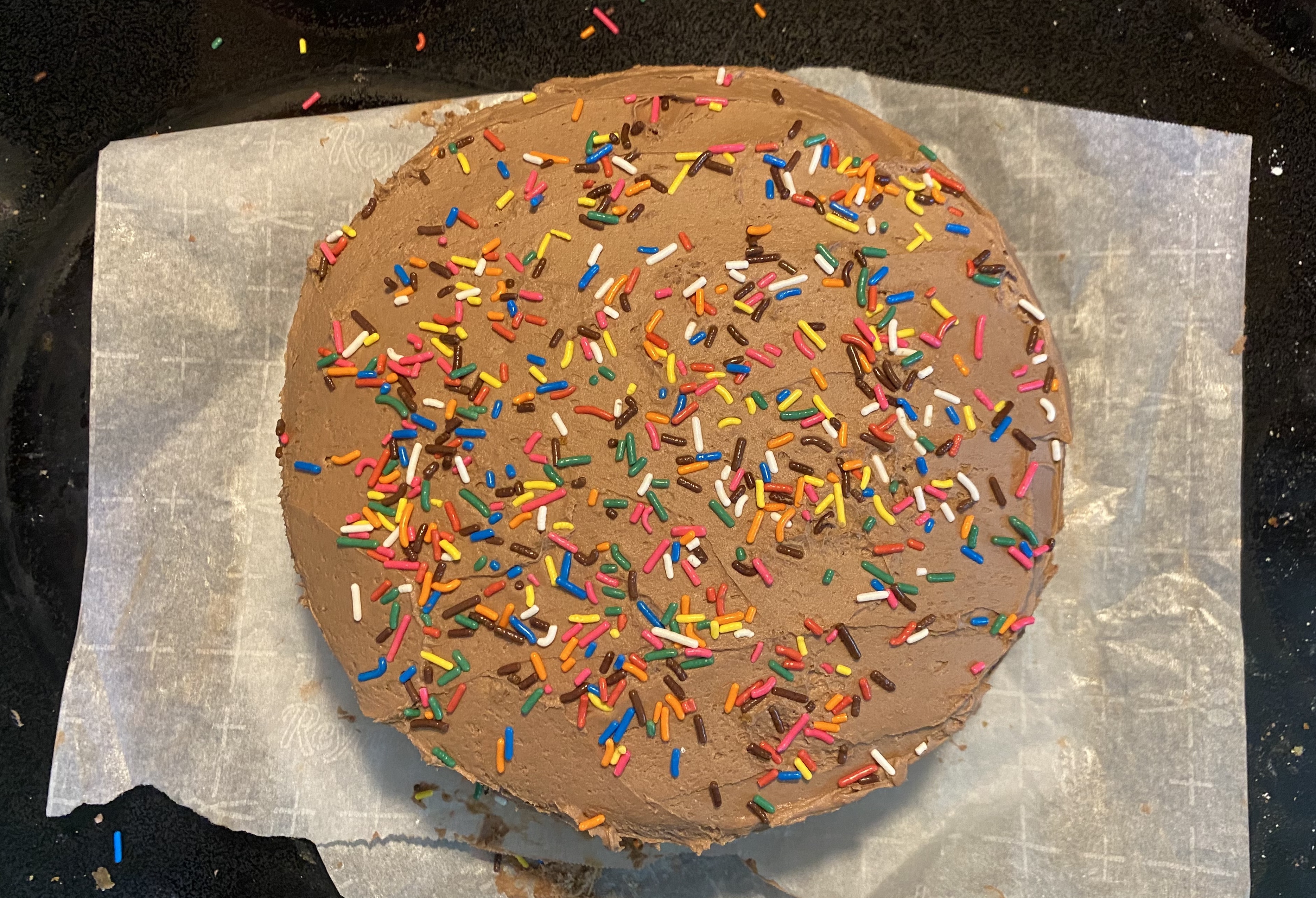 I discovered The Kitchn in 2015, which had another great yellow cake recipe with buttercream frosting that was very popular. (Need something? Anything at all? Just ask Google.) Now that this two-layer birthday cake has been frosted and sprinkled, it's time to pack it up and go to the party. I took one last picture of this cake with my iPhone, edited it on my iPad, and now I want to enjoy it.