Imagine a full-size cookbook with hundreds of other cookbooks embedded within it. Then add large color images, videos, hyperlinks, and reviews of the food creation . . . sounds great, doesn't it? That is the iPad. After using actual cookbooks and then an iPhone for years to elevate my baking, I've moved to the next level: the iPad.
My baking journey started with my parents' cookbook, which they had received as a wedding gift in 1958. It completely fell apart a long time ago, with much use, as it had a variety of easy and economical recipes in its one hundred pages. Upon receiving the 900-page Fanny Farmer Cookbook in 1992 at my own wedding, my baking journey got started in earnest, and I received as a birthday gift the 100th anniversary edition in 1996. Its pages are also well-worn from near daily use.
As with all things, the Internet came along like a well-honed Swiss Army Knife in the late 1990's to enhance so many things, particularly books and images. Laptops and iPhones made the Internet mobile. The Apple Watch made connectivity nano-sized, and the oh-so-portable iPad made all of that connectivity a lot more convenient. The images are bigger, the videos load much faster, and all of that text is much easier to read.
So let's get started with a birthday cake and a column both created with an iPad: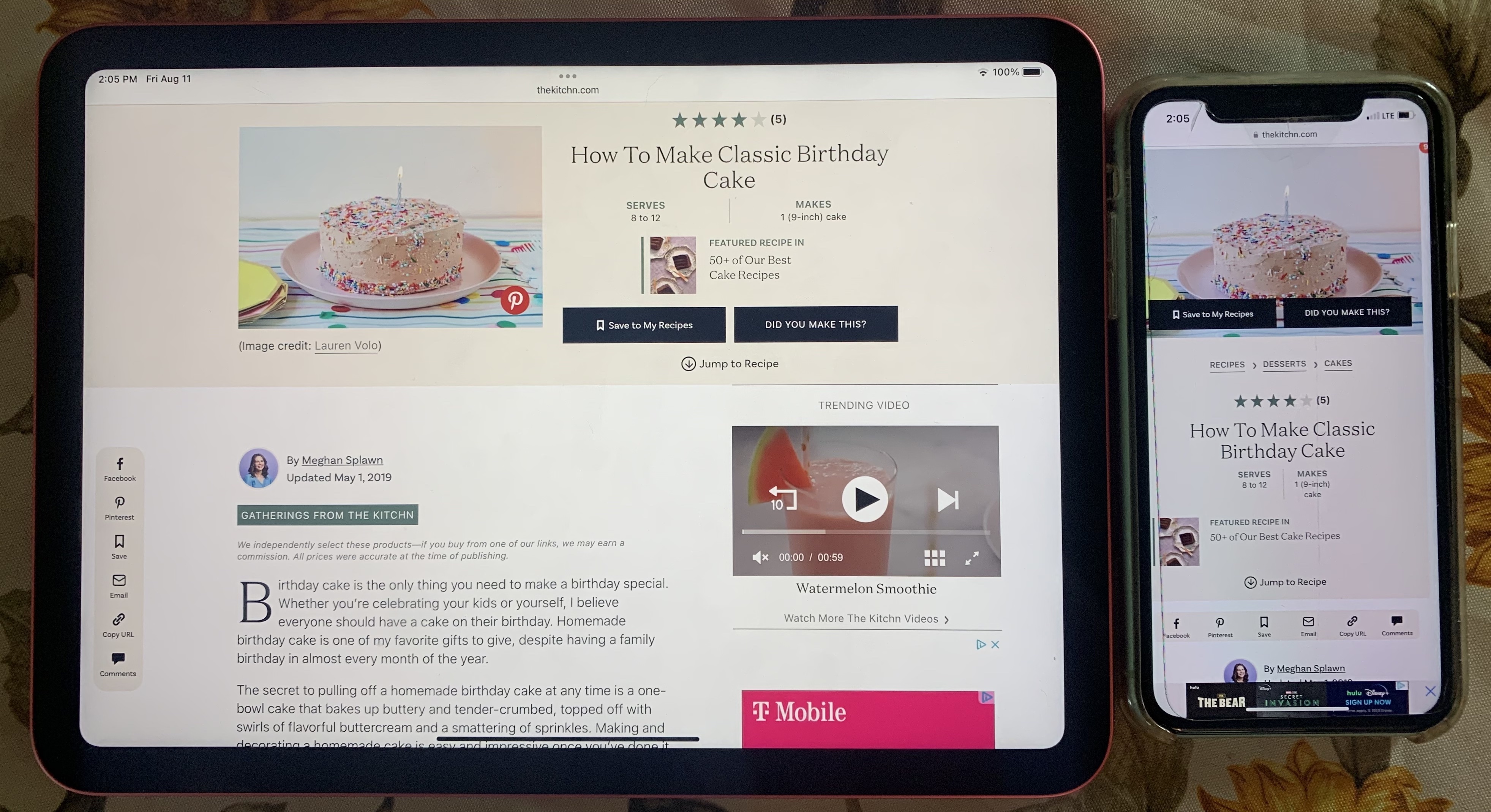 The liquid retina display, LED-backlit screen on the iPad measures 10.9 inches diagonally (27.7 cm), with 500 nits of brightness. The iPhone 11 pictured here (my daily device) measures 6.06 inches (15.4 cm) diagonally at 625 nits. The iPhone is brighter than the iPad, but with its larger type, the iPad is already easier to use than the cell phone. Sure, the iPad is a larger canvas for advertising (at these free websites), but the ingredients for these recipes have now been freed from the need of reading glasses.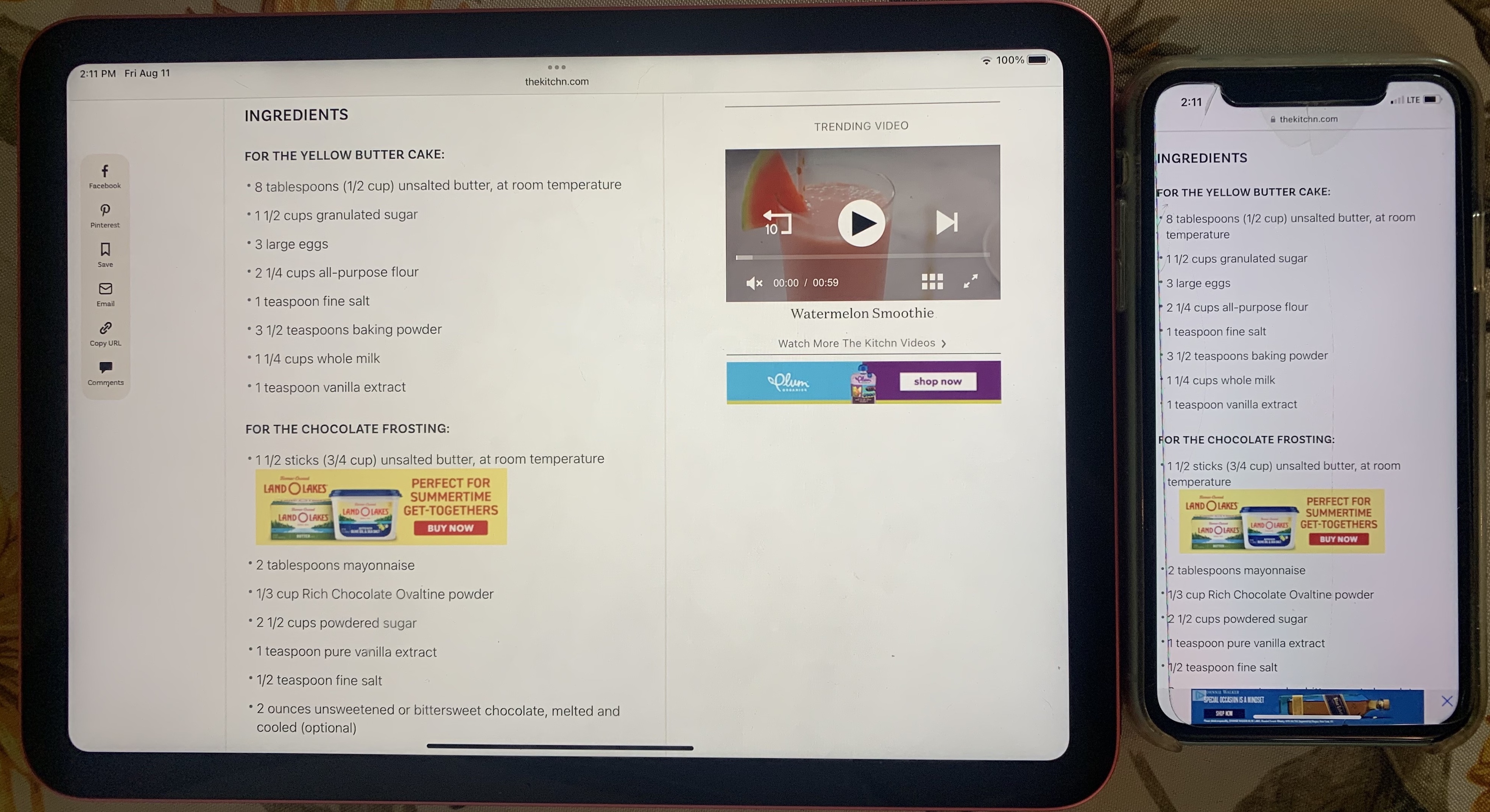 The iPad cost $570.10, delivered, with Apple Care in January 2023. Some folks might say that's a little much for a glorified cookbook, but this has so many more uses than displaying ingredient lists and butter advertisements. Originally purchased for photo editing, this iPad is much better than the MacBook Air laptop and iPhone for taking and editing pictures. The laptop, hands down, is best for text editing, but the iPad does everything and does it well.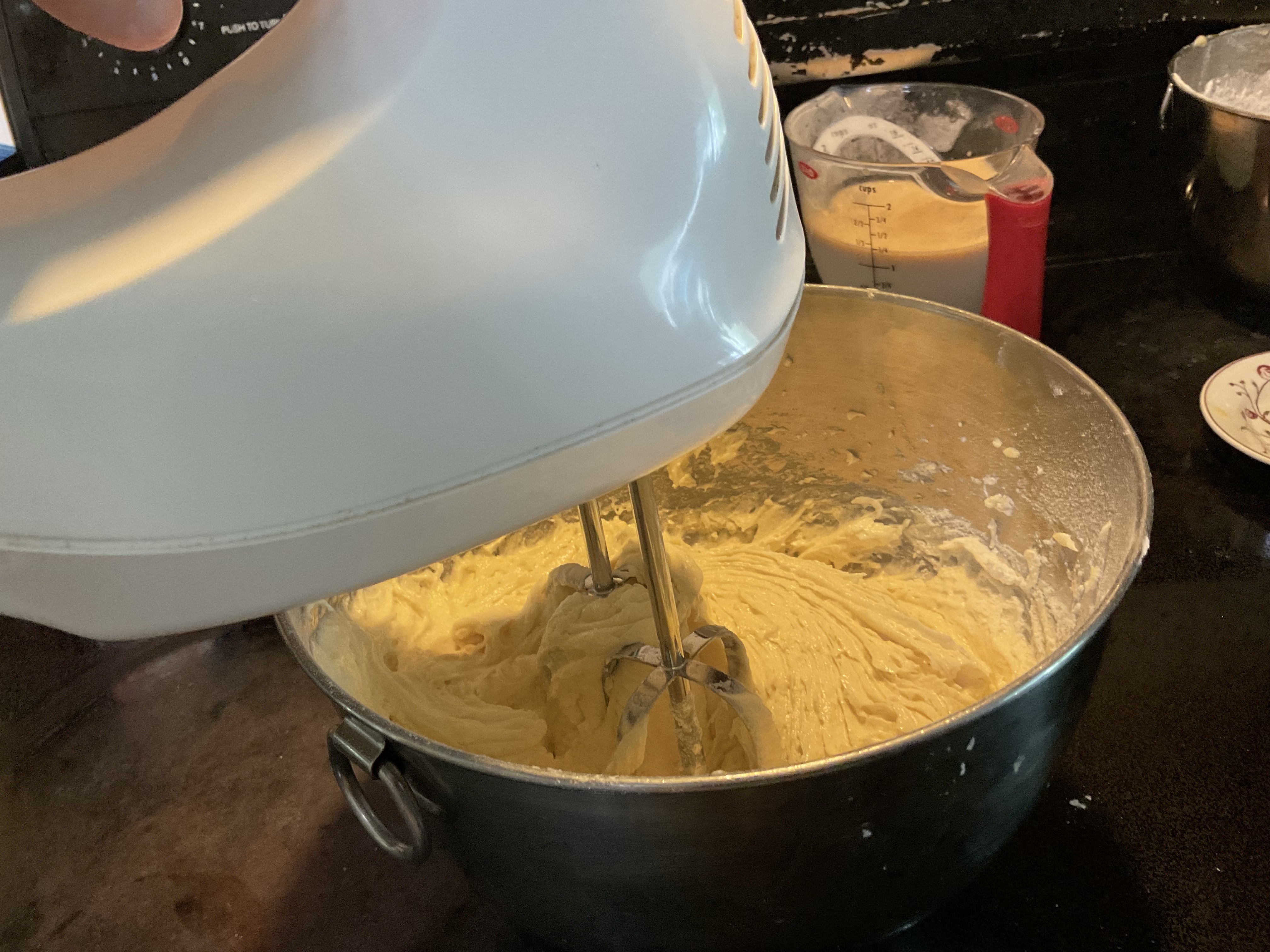 Another useful thing to know about iPads and iPhones is the term "nit." This term is most commonly associated with young kids and headlice, but it also measures brightness in electronic devices. iPhones have the highest number of nits at 625 max brightness, which is candlepower per square meter, as these devices are often used outdoors and are competing with sunlight. The iPad has a max brightness of 500 nits, with its much larger screen. A MacBook Air M2 2022 with a 13.5 inch (34.3 cm) screen also has 500 nits. The word "nit" is an abbreviation of the Latin term "nitere," which means to shine, to glitter, to glow, or even to thrive. Here's the math: 1 nt = 1cd/m2. And what about the lumen? A lumen is the measure of the complete luminosity of a device or even a movie screen.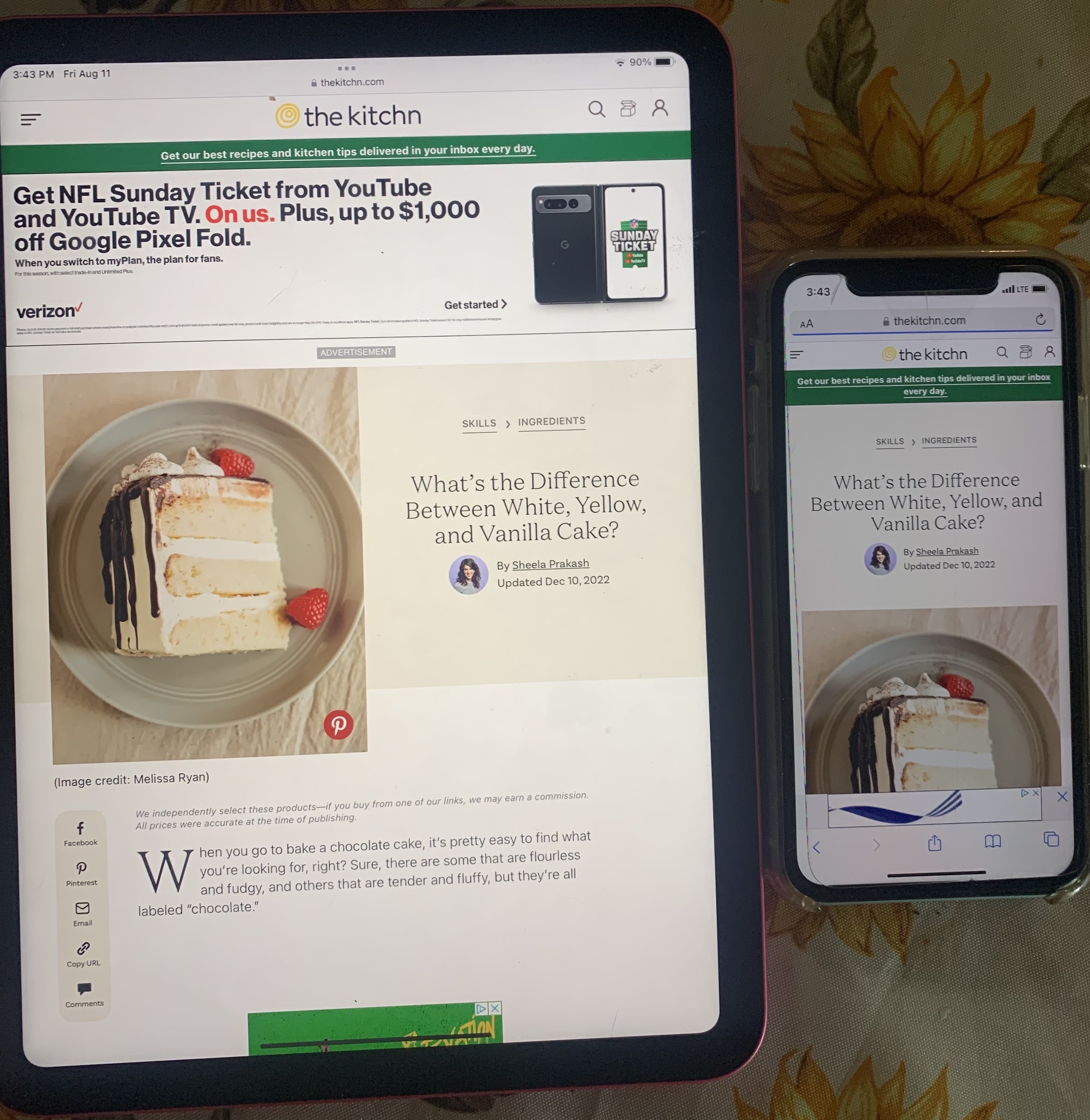 While the two layers of this yellow birthday cake were in the oven (approx. 25 min), the iPad thoughtfully displayed links to the differences between yellow cake, white cake, and vanilla cake. From The Kitchn: Yellow cake uses egg yolks in addition to the whites, and it does not cut the butter with shortening. White cake uses only egg whites with shortening plus clear vanilla extract to keep the cake as bright as possible. There is less fat with white cake as there are no yolks and less butter, and the texture is not as tender as yellow cake. Both yellow cake and white cake are both vanilla cakes, as they both use vanilla.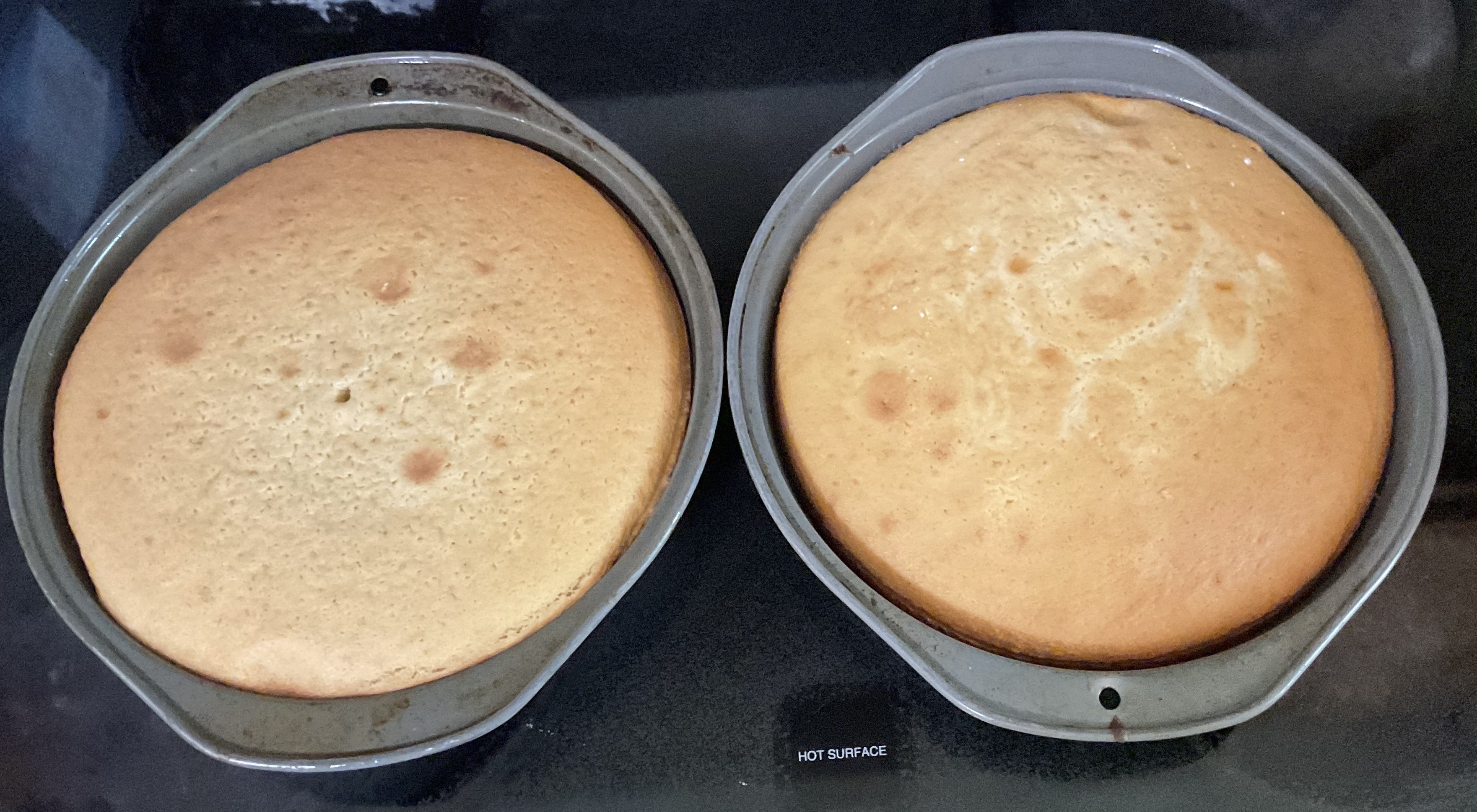 The iPad so helpfully displayed the differences between yellow cake and white cake, while also providing an legible explanation of the differences between the "nit" and the lumen. It's easy to understand why an iPhone looks so much brighter in a movie theater than the movie screen itself.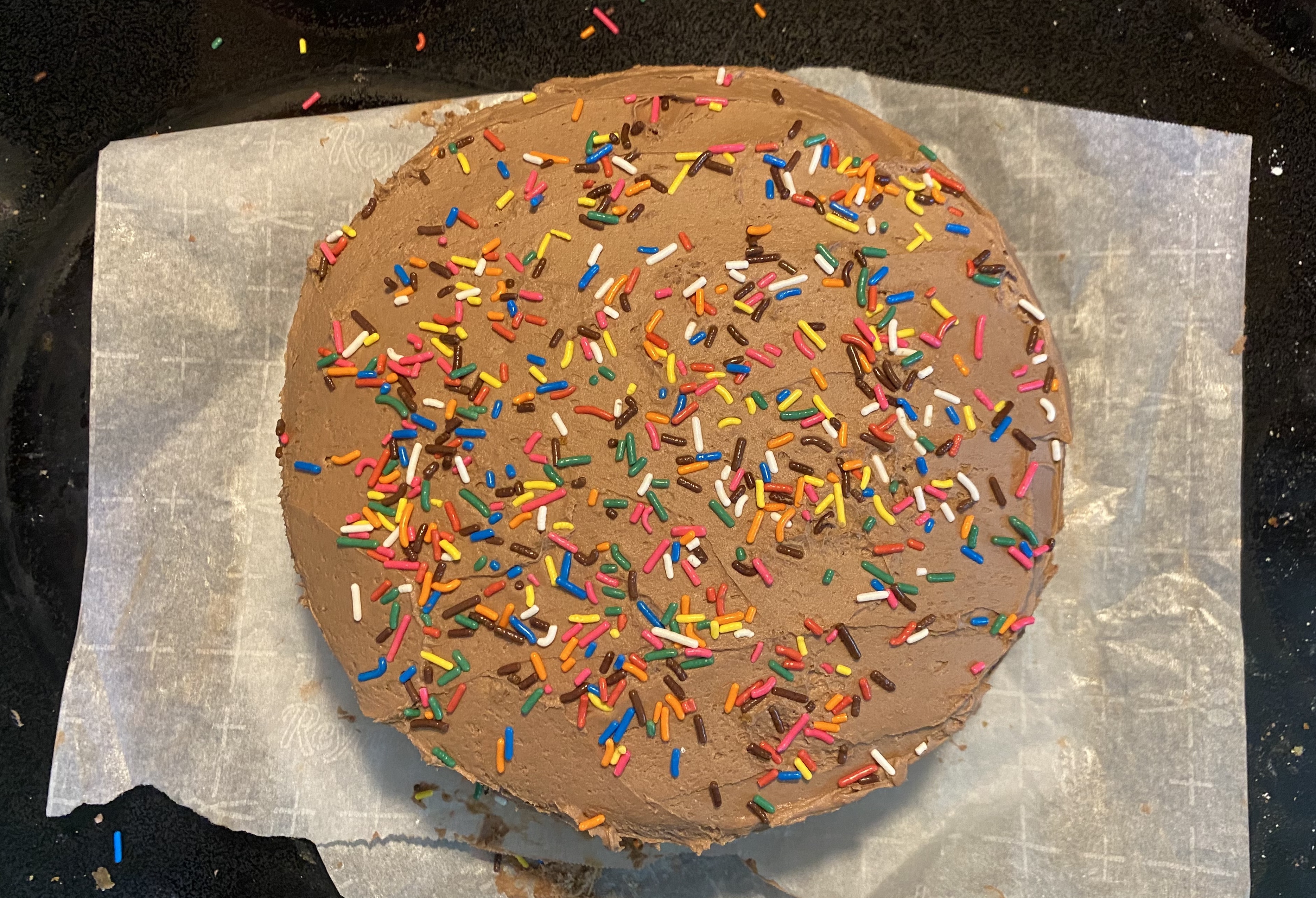 I discovered The Kitchn in 2015, which had another great yellow cake recipe with buttercream frosting that was very popular. (Need something? Anything at all? Just ask Google.) Now that this two-layer birthday cake has been frosted and sprinkled, it's time to pack it up and go to the party. I took one last picture of this cake with my iPhone, edited it on my iPad, and now I want to enjoy it.
This past January, the plan was to utilize a virtual private network from PureVPN to help support the connectivity needs for our small book-distribution business. The need was two-fold: inside and outside connectivity. After repeated failures to keep the business, particularly our web pages, connected to the outside world, the decision was made to use it only for internal connectivity needs between several computers, including one server and an older MacBook Pro. That quite didn't work out either, so two weeks ago PureVPN was replaced with a different VPN service, NordVPN.
In early November 2022, a one-year subscription plan for basic service was purchased from PureVPN for US$80.83 that included a static IP address. Connectivity problems began soon after installation, and thus a static IP address was soon purchased from altafiber (formerly known as Cincinnati Bell) for US$30 each month to remedy the outside connectivity problems. This scheme has worked well. PureVPN would be used only for internal connectivity.
Internal connectivity with PureVPN did not work as planned, either. PureVPN would simply not stay connected. There was difficulty in simply making a connection; the company's Stateside servers were often busy. Other times, there was no apparent reason why the service could not connect. Connection was spotty on a MacBook Pro purchased new from Apple in December 2022; connection was poor on a 2017 MacBook Pro.
In early April, NordVPN was substituted for PureVPN. The price for a basic, one-year subscription was US$68.85. That price-point comes with the secure, high-speed VPN service; malware protection, and the tracker- and ad-blocker. We are not getting the cross-platform password manager, the data-breach scanner, the 1TB cloud storage, nor the "next-generation" file encryption. NordVPN could not provide the static IP address that we needed; however, internal connectivity issues vanished--even with the six-year-old MacBook. Not one disconnection occurred in the two weeks the computer has been used with NordVPN.
At its core, according to Wikipedia, a virtual private network is supposed to "establish a virtual point-to-point connection through the use of tunneling protocols [encryption] over existing networks." To do that, a VPN user connects to a remote server where the data-protection happens. Nothing will work without access to the remote server. NordVPN stays connected to its server, apparently based in Chicago. After replacing the 2017 MacBook Pro with a MacBook Air utilizing a Macintosh hard drive, an M2 chip, 16 GB memory on Ventura 13.2.1 operating system, the Internet is faster than ever.
A lot of YouTubers are paid to promote NordVPN on their channels. We were intrigued when a credentialed YouTube historian became a paid endorser, and often checked out the website. When our previous VPN failed, it was the first place we went to begin shopping for a new service. NordVPN is easy to use and is competitively priced. Except for our iPhones, now all of our devices from our server to our iPad utilize this VPN service.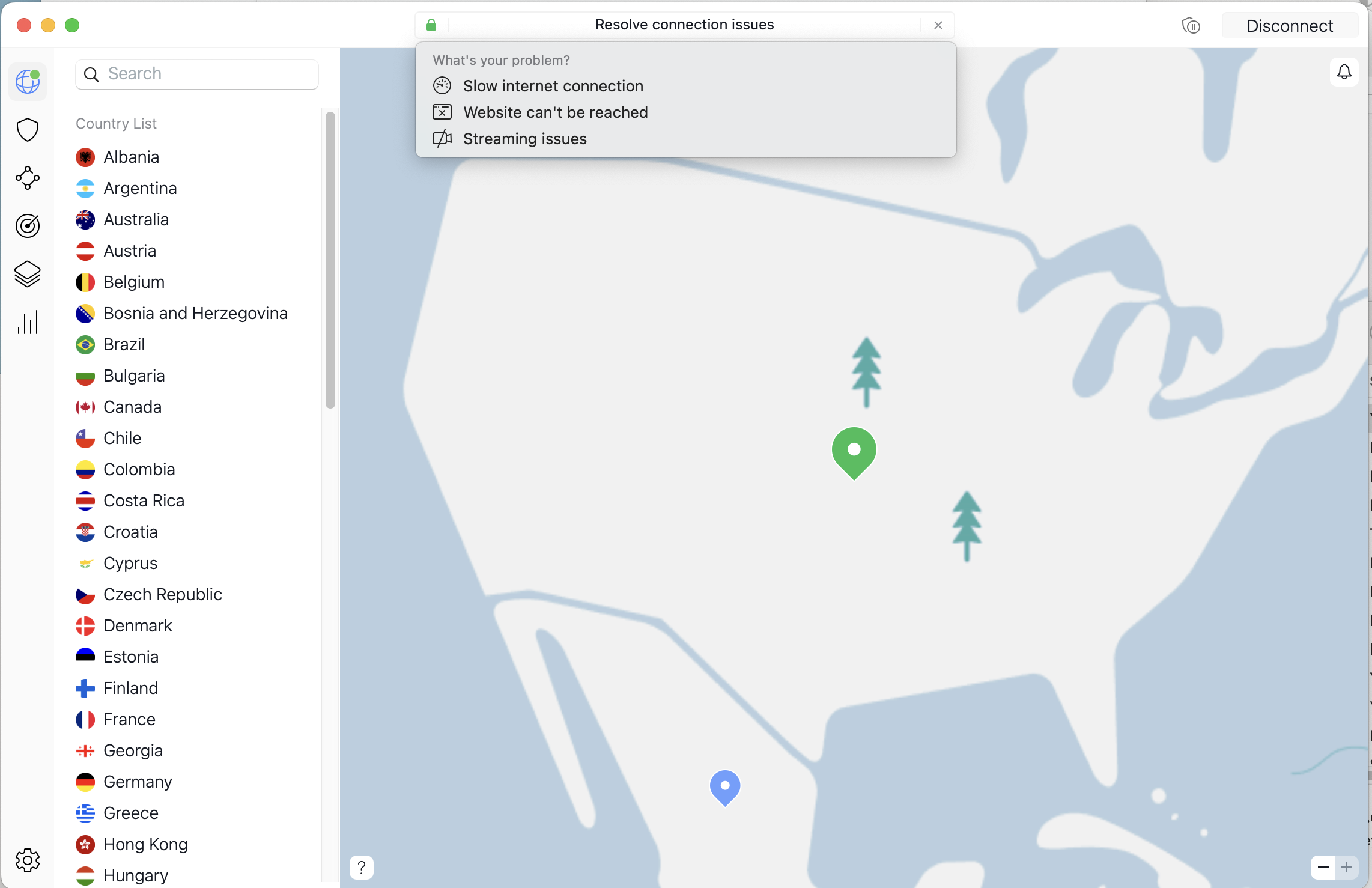 Back to the Future: From Cincinnati Bell to GoDaddy to VPN to Cincinnati Bell again

During the summer of 1999, I worked for a large manufacturing publisher here in Cincinnati. When my older son was born, I was able to work from home and extend my maternity leave. I had a nice work area in my dining room and a fast computer, printer, desktop scanner, and a rock-solid modem. All that I lacked was a high-speed internet connection. When Zoomtown DSL service became available for my subdivision that fall, we quickly had it installed. It was high-speed copper line Internet. In other words, this was Plain Old Telephone Service (POTS) wrapped in modern DSL. Everything was plugged into a socket, and there was no "wi-fi" nor did we have websites. This new Internet service was going to transform my small book-distribution company into a going concern.
Fast-forward to 2016. My side hustle had grown into a thriving business with several websites. Cincinnati Bell came through the neighborhood and offered Fioptics, and our subdivision would have an ultra-high speed glass line run to each home. This was called Fiber-to-the-Home, or FTTH. We declined, however, as CB didn't offer a static IP address, which was necessary for our business. Also, we found it hard to give up our landline, which was still functional in the event of a power outage. Fioptics was not.
In the meantime, we moved our dozen websites to GoDaddy after Apple discontinued its server platform. As an added benefit, when the Cincinnati Bell network went down, our websites were still up.
In 2019, Cincinnati Bell notified us that they were going to finally cut our copper wires. We were the last home in the subdivision to have glass installed. (By that time CB could accommodate a static IP address.) We quickly became accustomed to the lightning-fast speed of our FTTH connection for our home and the reliability of the GoDaddy platform with its static IP address and email. Cincinnati Bell also became known as AltaFiber.
In October 2022, GoDaddy began migrating its email to Microsoft 365, so we began exploring other providers as the cost would greatly increase. That platform was a virtual private network (VPN) hosted in the US Virgin Islands. On January 1, 2023, we moved our website hosting from GoDaddy to the VPN.
On the morning of Saturday, January 14, the VPN crashed and our websites plus our company email went dark. We spent hours online with their tech support to no avail but we still had working home Internet and email through AltaFiber. On Sunday afternoon we were still offline, but we connected with AltaFiber in an online chat. A technician would come on January 17 to configure our CB-supplied router with a static IP address so we could continue hosting our own websites. The VPN charged us $80 for a year of Static IP address service, but it had failed. We would use AltaFiber's Static IP address "bolt-on" service for $30 each month.
The technician came as promised on Tuesday afternoon and worked for four-and-a-half hours to configure our router with the AltaFiber system. He spent a long time on the phone with HQ, as a co-worker at the office near our home had not previously configured our ip address as was the intended plan. We had also wanted the connection from the router to our new Mac Mini server to be wireless; however, a Category 6 ethernet cable was used to make the connection. Using a cable provided an advantage in that we could save the wi-fi to run our in-office webservers.
Though we are not using our VPN for its intended purpose, we are using it for our in-office network. We have a little pureVPN icon on our laptops to connect to the VPN system, so we can view our own websites away from the AltaFiber network on our own wi-fi connection.
We are still using MaraDNS to give our domain name to the outside world. Puck is still our backup. We use lighttpd as it is similar to the old Apache web server. Maddy is our email mail service that handles both SMTP and IMAP.
Those twenty-odd years ago I never would have dreamed that we'd have more than a dozen websites, including SmallBizMac. A high-baud modem running on POTS was the best of that era. Now we are using a static IP address running on fiber via an ethernet cable so we can keep our outside network on the outside and keep our inside network running wirelessly in the office.
Below is a photo showing a Category 6 ethernet cable running from the CB-supplied router to our Mac Mini server.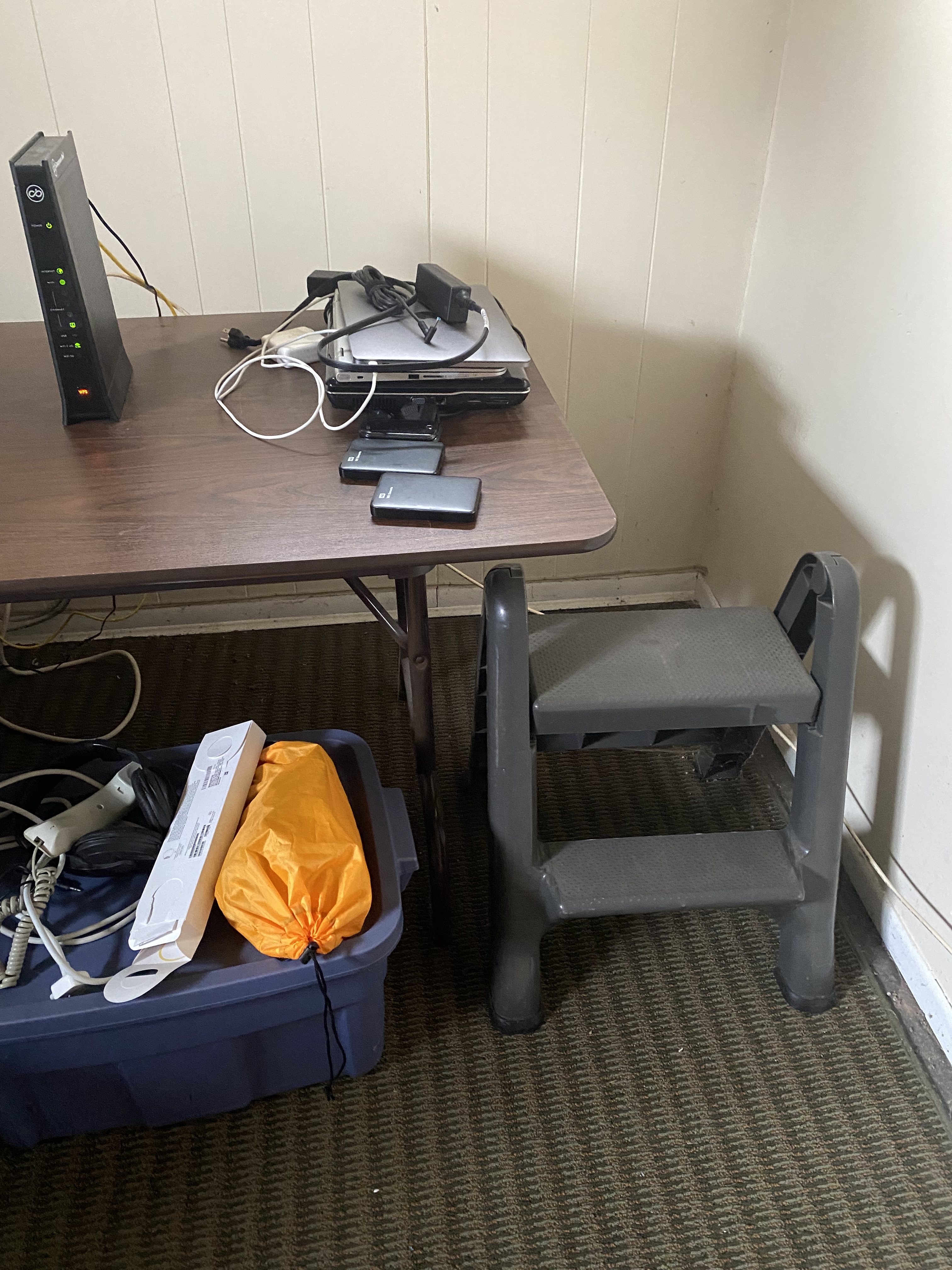 Our VPN was up for about two weeks and then it failed. We are now going with Cincinnati Bell/altafiber Static IP address.
Self-hosting an internet presence

For about 15 years, we hosted our own web and email presences on a Mac server in our office, using the Mac OS X Server platform (first a specific OS version, later an app) to handle the hosting and the configuration. Apple began deprecating Mac OS Server in 2018, and discontinued it altogether last year.
That's a shame. Mac OS X Server was a terrific platform and an ideal tool for small Mac-based businesses. With a little investment of time and learning, businesses could have a robust web presence and save on hosting fees. That was always our rationale.
When Apple announced the phase-out of the server platform in 2018, we reluctantly opted to move to a commercial hosting platform. Cheap-Domain Registration, a GoDaddy reseller, has been our domain registrar for 20 years. We decided to purchase a hosting and email package from them, and it worked reasonably well at a reasonable price.
Until now.
GoDaddy recently announced that they would be migrating their entire email platform to Microsoft 365, without any input from their customers. This was not an opt-in process--the email was simply moved with five business days' notice, and a three-month "trial" period to adjust was provided. After that, email, which had previously been included with their service, would become a separate subscription feature that would amount to a significant cost increase.
The cost increase--along with the heavy-handed way the migration was implemented--was too much. So we decided to go back to our roots and begin self-hosting again.
We wanted to share a bit about the toolset we've chosen for hosting. Because Apple no longer provides simple configuration tools for web and email hosting, we assembled our own packages, and created simple interfaces for their daily use.
Our criteria for choosing web, email, and DNS programs was simple: small, lightweight, easy-to-configure programs. And for service providers, we opted for simple and cost-effective.
For the Internet backbone and static IP, we decided to host behind a Virtual Private Network with a dedicated IP address. PureVPN fits the bill nicely, with an inexpensive annual fee, support for static IP's and port forwarding--one of the only services we found that offers this. Fortunately, the Mac Mini that we purchased to use as our server machine supports automatic VPN connection, so that integrates well. We run a periodic script on the Mac Mini to ensure the VPN connection is always on.
For DNS, we found MaraDNS, a simple, robust DNS server. It builds from source code with a single command, and its core configuration is contained in a single file, plus individual entries for each domain we host. We have set MaraDNS up as the authoritative DNS server for our domains, for greater control, and use Puck as a backup external DNS server. This setup has worked very well and we have had very little DNS downtime.
For web, we are using lighttpd, a fast and light web server. lighttpd is similar to the venerable Apache web server that comes bundled with macOS, but is somewhat smaller in its options and is simpler to configure. Our needs are modest--mostly static HTML pages with some CGI--and so lighttpd is more than sufficient.
For email, we have found a very pleasant discovery--Maddy. Maddy is an all-in-one mail server, meaning it handles both sending email (SMTP) and receiving and storing messages (IMAP). We had run into considerable difficulty trying to build other commonly-used mail servers such as opensmtpd for outgoing and tpop3d for incoming and storage--various errors prevented building or smooth operation, and there did not seem to be any pending fixes. Maddy, however, built from the get-go and worked almost out of the box with very simple configuration. The one complexity was linking Maddy to an external mail server to avoid the modern difficulties that come with self-hosting a mail server. We use sendinblue for our exteral relaying; this service has a generous 300-email-per-day threshold for its free/basic package. After a fair amount of trial and error and even open tickets with sendinblue, our configuration was successful and email now works fine.
macOS does include under-the-hood support for email, web, and DNS--that has not changed. But these are much more difficult to configure without the nice GUI that Mac OS Server provided. Additionally, we were concerned that OS updates would require extensive re-configuration of each of these tools in our OS. The server app largely handled that for us, but we have less confidence that this would go smoothly with manual configuration. The setup we have assembled can function independently of the OS version. The migration project took about six weeks of part-time work, and we are not eager to re-do all this work simply because Apple ships a new Mac OS version.
Shortly, we will be terminating our hosting and email services with GoDaddy, leaving them just as our domain registrar. This forced migration to Microsoft's email platform is costing them most of our business.