CNet has a good overview here about whether OS X Server makes sense for a small business, particularly a Mac-based business. Their conclusion: "if you would like to centralize the management of any of these services for multiple computers and provide more dynamic means of accessing these services, then it's likely you need a server. You don't necessarily need to use Apple's Server package: since OS X is Unix-based, it can be configured with other server software, much of which is free and open-source, but this usually requires advanced server and Unix knowledge."
In case you're wondering why we're not using a common blog platform such as WordPress (a somewhat ironic choice given that one of our press's imprints is called Word Poetry), it's because we've opted for a smaller, simpler, and venerable solution: Blosxom, a blog engine that nonetheless provides a great deal of power.
Blosxom dates back to the early days of the blogging movement; first written in Perl by Rael Dornfest, it consists of a single file of Perl code less than 500 lines in length, and it has inspired many variants in other computer languages. Blosxom can also be extended via plug-ins, and, over the years, dozens of such plug-ins have been written.
Blosxom is no longer as popular as it used to be, partly because blogging engines such as WordPress do more than Blosxom and can be simpler for non-technical computer users to get started with; commercial hosting for WordPress blogs is widely available. WordPress is also free to download and install on your own server, but few WordPress users do that, as installing and configuring WordPress can be quite complex. No such commercial hosting exists for Blosxom, alas; Blosxom requires a certain level of technical skill, a willingness (or desire) to get your hands dirty hacking on code, to work well.
Also, apart from its technical requirements, the original web design of Blosxom shows its age; the design templates bundled with the original version of Blsoxom (called "flavours") are dated in both their layout and their HTML practices.
However, the core of Blosxom remains as flexible and powerful as ever, and we've been able to hack it to work with a modern, lovely web design template like Skeleton, which breathes new life into the blog. We've also used Frank Hecker's wonderful feedback plugin to add comment support. (The coding tweaks in the comment sections of Frank's blog helped solve a couple of knotty issues that allowed the comment plugin to work.)
Blosxom development has slowed in recent years, and it's not as widely used as it once was, but the slow pace of development doesn't worry us; it's less a sign of a stagnant product as a stable, mature one that no longer needs a lot of tweaking. We have yet to see a blogging challenge that Blosxom can't handle, and so we're happy to continue using it.
The small family business that uses iPhones may also allow younger family members to use iPhones as well. And iPhones can get lost. At Christmas. Read on...
The annual discussion of what-do-do for Christmas Present-2012-began at the Thanksgiving table, which it always does. Lori mentioned that the cannoli she wanted for dessert figured prominently in The Godfather, and Kevin said that they should watch all three movies when they got home. Lori then replied that she'd be making notes for Christmas Eve dinner reservations and/or putting away leftovers as the movies ran. As Kevin and Lori left their favorite Italian restaurant, they both checked to make sure they both had their iPhones, and also made sure each of their boys had their iPhones.
Lori made their Christmas Eve reservations on her iPhone, just as she had last year. Same restaurant, too. She had visions of white linen tablecloths, clinking wine glasses, delicious food, and one more thing ...
The boys sat with Kevin as he watched The Godfather movies. They saw the old-fashioned buildings, cars, and telephones. Kevin told them that phone numbers used to have place-names in them. Then the capo Clemenza said, "Leave the gun, take the cannoli."
"Boys," Kevin said, "we need to remember to hang on to our phones this year." The younger boy nodded.
Lori walked into the room with hot chocolate for everyone. "Kevin? Did you say something? It sounded like, 'leave the phone and take the cannoli.' They don't have iPhones in this movie."
"I was just reminding the boys to hang onto their phones. They can't goof around and lie down on the seats and have their phones slide out of their pockets. It's better to forget the cannoli and keep the phone."
Lori set down the cocoa. "I was thinking the same thing. I just got our reservations; same place. I don't want to be calling AT&T to brick the phone at four o'clock on Christmas Eve."
"That's right, boys. We turned it into a lump of coal so no one could run up our phone bill."
The Godfather showed a Christmas tree, all lit up with lights and presents underneath. Snow covered the ground outside. The younger boy watched the bad guys coming around. "Dad, here they come."
Lori finally sat down. "Guys, if someone had an iPhone they could call 911." She took a sip of her cocoa and a bite of her leftover cannoli. Her older boy also took a bite. "I bet his iPhone was in the pocket of a crooked elf by midnight."
With that, the Ghost of Christmas Past flew out of the house, with the Ghost of Christmas Present taking its place on the couch.
The business case for Mac OS X Server

We've used Mac OS X Server for a decade now as a platform to run our business on: it provides file, web and mail services. It's cost-effective, especially in its recent iterations. OS X Server is an ideal, cost-effective solution for small businesses looking to bring their e-mail and webhosting costs under control, improve the accessibility of data to their employees, and increase collaboration and productivity.
Why use a server?
Before we discuss the particular features of OS X that we like, we should probably address why a small business--especially a two-person operation like WordTech Communications, which hosts Small Business Mac--would even need a centralized server. Isn't a couple of systems and a shared Internet connection enough, perhaps supplemented by an outside web hosting service?
Well, yes, that can be an adequate approach, especially for getting started. We began on a part-time basis in 2000 (one of us worked on the business full-time and the other part-time while still maintaining a full-time job). We bought a second PC, installed a DSL line for shared high-speed Internet access, set up a dot-com website under our own name, and got to work.
As we grew, however, this approach became inadequate. It was difficult to share files over a peer-to-peer computer network. Backups of data were haphazard, done occasionally to zip disks or CD. We kept adding new websites, but hosting costs forced us to host them on the same server and use domain "aliases" (different domain names pointing to different directories on the server) that did not get picked up by search engines, which made us look unprofessional.
So, in 2003, when we made a significant investment in upgrading our equipment, we decided not just to get new computers, but a centralized file server that we would manage ourselves. That also allowed us to bring our e-mail in-house and also our web hosting. Hosting our sites in this fashion commercially would probably cost about $200 per month. We also gained centralized storage space for our critical data, which was backed up nightly to an external hard drive. Since then we've periodically updated our server hardware and OS, going from Jaguar to Panther to Tiger and then, last year, to Lion.
OS X Server in 2012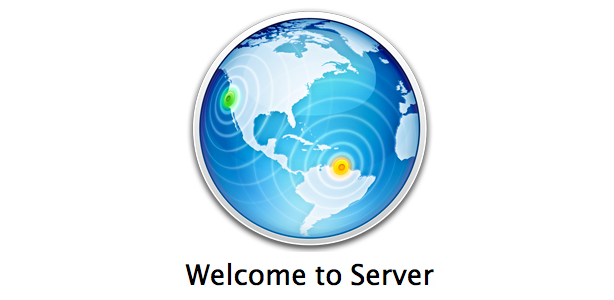 Since Lion (10.7), OS X Server is significantly different from earlier releases, which ranged in price from $500-$1,000 depending on the configuration. Apple's server system is now downloadable from the Mac App Store; the Lion version cost $50, and the new version, Mountain Lion Server, is even less expensive, at $20. It's now called "Server.app," and provides tools to configure web hosting, e-mail services, and more.
Our experience with Lion Server wasn't a great one, initially: Apple has removed some functionality from the server app, and reconfigured other functionality. (See this article for a discussion of these changes.) We were able to get things working well, after some trial and error, and so have left our Lion server setup in place. (The latest version of Server.app, for Mountaln Lion, appears to address some of these issues, but we don't like to take the server offline for configuration unless the benefits to upgrading are considerable. On a server, stability is the most important feature.)
An excellent value
In any event, the value of OS X Server can't be beat. Apart from allowing us to reduce our costs--our savings in webhosting alone total more than $2,000 per year--OS X Server has always been a good value and is especially so given its reduced price. The server tool runs without a flaw on basic iMac hardware. An equivalent Windows server setup, Microsoft Windows Server Essentials, would cost hundreds to thousands of dollars (Microsoft's server lineup has a bewildering array of options and configurations that make computing a simple cost for a comparable setup difficult). OS X Server was a good value compared to Windows a decade ago, and is more so today.
An alternative approach that we did not evaluate in 2003 was Linux, the open-source Unix-based operating system that has a major share of the server market. One reason we did not evaluate Linux closely then is that while it is powerful, stable, and low-cost or even free as an open-source OS, it is also highly complex to administer. OS X Server runs on top of a Unix foundation that offers the same stability and power as Linux, but was much easier to configure because of Apple's slick GUI tools. Today Linux may be a more viable option: this article discusses using Linux in a small business context. The major reason we continue with OS X Server is that it works for us, and have no compelling reason to change.
The bottom line
All in all, the business case for OS X is considerable. For us, it has been a tremendous tool and a great value. It is a competitive and strategic advantage for any small business that adopts it.
Small Biz Mac focuses on using Mac as the foundation of a small business--the operating platform, the market, and more. This blog will discuss both the challenges of operating a business on Mac hardware and software, and the impact of the broader Mac market on business.
About us: We're a two-person business based in Cincinnati, Ohio, focusing primarily on publishing for the literary and academic markets and software development for the Mac and iPhone markets.
Some years ago we hosted a previous version of Small Biz Mac; we discontinued the blog in order to focus on other projects, particularly our software development business. With all the changes in the Mac market, the world of small business, and more, we felt it was a good time to revive the blog. We hope you'll take a look and find some things of interest here.